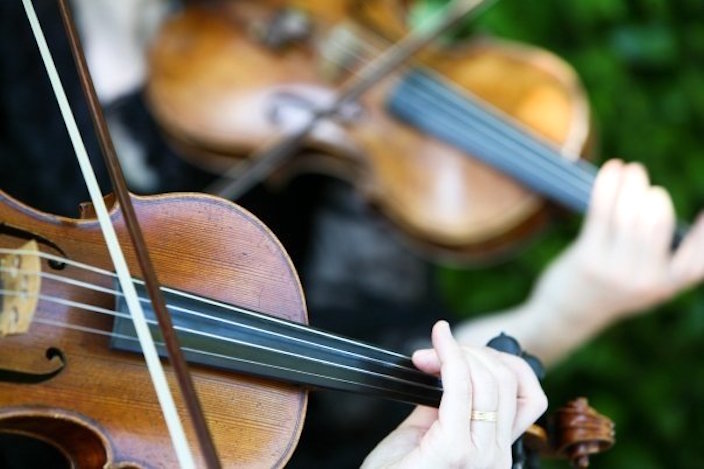 The Eloquence String Quartet's versatile and dynamic musicians can create the perfect mood for your Wine Country wedding or party. We offer a diverse and beautiful repertoire and can provide custom arrangements if you have a personally meaningful melody you wish to incorporate into the ceremony. Whether you choose to put together a completely unique set of melodies or use one of our carefully crafted sets from the Wedding Menu, be assured you'll receive the highest quality classical music for your important day.
Let us know the kind of Wine Country wedding music you like and we'll see how we can help.
Choose One of Our String Ensembles
The Eloquence Quartet
Our most popular group, the Eloquence Quartet, performs all of the standard string quartet literature as well as standard wedding repertoire, contemporary song covers, tangos, American Songbook standards, operatic favorites, holiday sets and popular classical melodies from the baroque through romantic periods. The quartet has a lush, full sound ideal for outdoor settings, wine caves, restaurants, churches, hotels and resorts, and many other venues. We offer everything from elegant and unobtrusive background music to more animated, lively music for receptions and open houses. Whatever your entertainment needs, group leader Peggy Brady will see to it that the sets are perfectly tailored to match the style and tone of your event. Variations on our standard ensemble of two violins, viola and cello include adding solo trumpet, or substituting one of our violinists for either a flutist or oboist to add a unique tone color to the ensemble
The Eloquence Trio
The Eloquence Trio performs much of the same repertoire as our quartet… all of the standard wedding literature, operatic favorites, holiday sets and popular classical melodies. Our trio instruments are violin, viola and cello. This combination provides a sound similar to the quartet in a more "compact" version. Our versatile trio enjoys playing tangos, waltzes, contemporary song covers, jazz standards and movie themes The song list includes many custom arranged requests from previous couples.
The Eloquence Duo
The Eloquence Duo is excellent for events where a compact ensemble is needed or where the event demands a more delicate sound. The duo performs a wide range of baroque, classical and romantic literature, wedding standards, operatic medleys and popular classical melodies. The standard duo is violin/cello.
Eloquence Violin/Guitar Duo
Violinist Peggy Brady joins forces with popular Napa Valley guitarist and arranger, Gordon Lustig, to bring you beautiful violin/guitar music. This combo boasts a huge repertoire ranging from light classical through contemporary popular music, but specializing in American Songbook standards, contemporary, Celtic, and French Musettes. Gordon can also provide vocals on request.
Solo Violin or Solo Cello
Solo violin or cello provides a beautiful backdrop for an intimate dinner with friends, a special wine tasting, for a small wedding or for a holiday church service. Violinist Peggy Brady performs baroque partitas, "Continental" classics, improvisations on favorite classical melodies and standards, as well as Irish/Celtic music. Cellist Gwyneth Davis offers Bach cello partitas, favorite classical/operatic melodies and much more.